On Saturday hosted two members of the British Royal family who visited for one day as part of celebrations to mark the 60th anniversary of the Queen's ascension to the throne — the Diamond Jubilee. Governor General Sir Frederick Ballantyne and other state officials, during a ceremony at the Cruise Ship Terminal, welcomed to this country the Earl and Countess of Wessex — Prince Edward and his wife Sophie Rhys-Jones.
The couple planted trees at the Botanical Gardens in Kingstown — the oldest in the western hemisphere — and presented Duke of Edinburgh Awards and attended a luncheon at Government House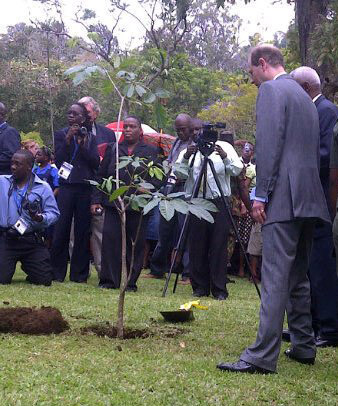 "As you are probably aware, Her Majesty takes a very keen interest in St. Vincent and the Grenadines and all that you, the Vincentians … do and has been watching your progress over the years and very much hopes that you will continue with all that you have managed to achieve since you have become independent and become such a vibrant nation, standing, very much, on your own two feet and she watches that with great interest," Prince Edward said.
"She also asked me to convey that in celebrating this year, she really wants you to know how much she appreciates the fact that you continue to look to her as your queen and as your head of state and appreciate that loyalty that you have shown to her over all these years," he said of Queen Elizabeth II, who remain head of state here an in several other Caribbean nations.
"This is a very, very special year and we are hoping that you will feel as much a part of this very special year because it may be 60 years since the Queen acceded to the throne but it is also marking 60 years in the story of St. Vincent and the Grenadines and it is as much about what you have managed to achieve in that time and I hope that you will make the most to celebrate all of your achievements and look forward in confidence to the future," Prince Edward further stated.
The Royal Couple also visited Bequia, where they planted two royal palms. According to the National Broadcasting Corporation, hundred of Vincentians lined the streets of Kingstown to get a glimpse of the Royal Couple as they travelled to the Botanical Gardens for the tree-planning ceremony.
Source: http://i-witness-news.com/2012/02/27/svg-hosts-royal-couple/